More than 100 alumni gathered at the Sheraton Framingham on April 13 to recognize the Leadership Academy's 30 years of impact and look to the future of addressing the region's challenges. Alumni from across the decades connected for engaging conversations. Many guests who have been nominated for the class of 2018 also attended and had the chance to meet impressive alumni and learn more about the Academy.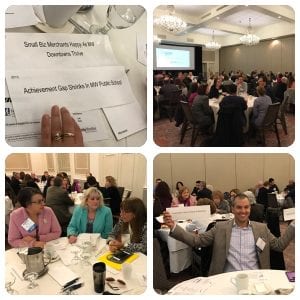 More than 100 alumni, guests, and the 2016 Academy class  gathered for the 2016 Spring Alumni Networking Breakfast at Framingham State University for a morning of connections and professional development. Guest speaker Sean Huddleston ('16), Chief Officer of Diversity & Inclusion at FSU, was an engaging speaker on "Inclusive Excellence" and  why it will have a positive impact on your organization, institution or community. Thank you  to  Impact Sponsors, Beveridge & Diamond,P.C.  and Boston Technology Advisors, Inc.; and Breakfast Sponsors, Mirick O'Connell and Cumberland Farms.

To learn more about supporting LMW as a future sponsor: call 508-872-6161.
The Fall 2014 Alumni Networking Breakfast featured Dr. Deborah McMakin, Framingham State University, who spoke about Emotional Intelligence and how it can make you a more effective leader.  Ninety people attended the October event at the Sheraton Framingham Hotel & Conference Center to connect with Academy collegues and meet the new class s of 2015.
 Congratulations to the members of the Class of 2014 on their graduation.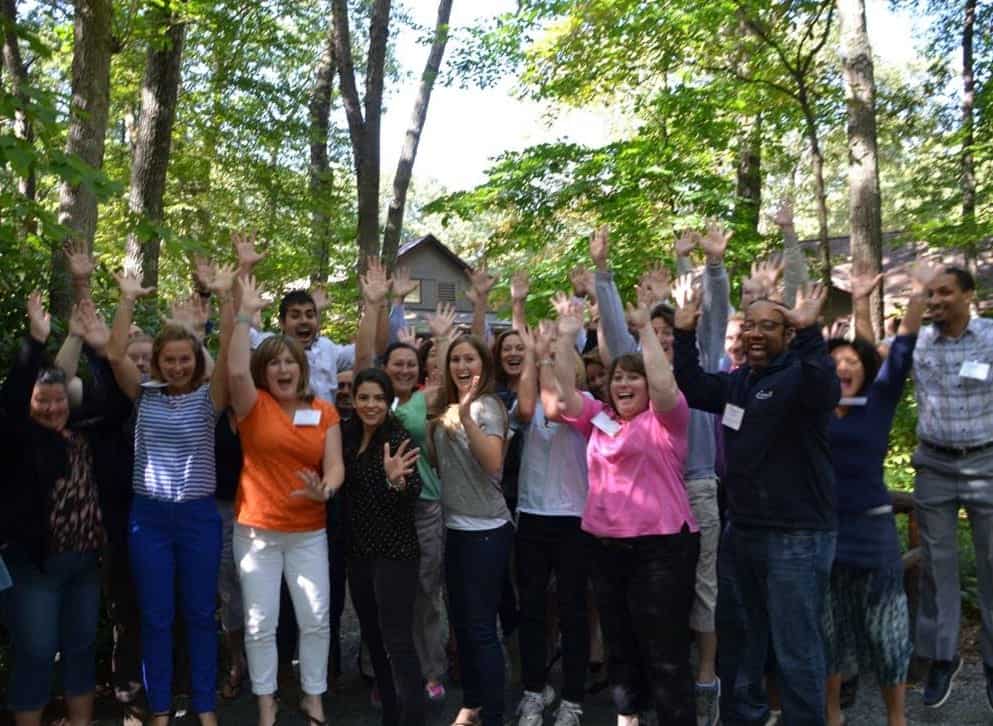 Guests and alumni celebrated  the graduates at a reception and ceremony on June 12th at the Courtyard Marriott in Natick.  Attendees included guests of the graduating class, the Board of Directors and alumni. Prior to the graduation, LMW held its 2014 Annual Meeting and elected 3 new Board members and new officers.
More than 80 alumni and guests attended the SPRING ALUMNI BREAKFAST  on May 21st at The Hampton Inn, Natick. "Framing Future Technology: what will it mean for you, your business and your community?" with guest speaker Tasker Smith, MIT Technology Instructor, and moderator, Rep. Chris Walsh, included a 3-D printer demonstration.

We are grateful for the support of our Breakfast Sponsors: Mirick O'Connell, Middlesex Savings Bank, Beveridge & Diamond, O'Connell Law and Boston Technology Advisors, Inc.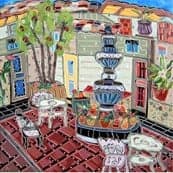 ALUMNI MEET-UP   April 2014    Fountain Street Fine Art
More than 40 alumni gathered on April 16th at Fountain Street Fine Art gallery in Framingham to enjoy wine, hors d'oeuvres and a special exhibition of paintings by local artist, Nan Hass Feldman.  There was a great buzz in the room as old friends reconnected and new connections were made.  The Class of 2011 – for the second year in a row – took home bragging rights for the most attendees from one class year at the Spring Meet-up! Thank you to our alumni sponsor Lynne Damianos of  Damianos Photography .
Class of 2011 colleagues reconnect at the Meet-up!
left to right: Patti Grigas, Framingham Police Dept.; Maud Dentico, Middlesex      Savings Bank; David Baldwin, Framimgham State University; Lynne Damianos, Damianos Photography; and Maureen Crocker, Crocker Design.
ALUMNI NETWORKING BREAKFAST   May 2013

Natick Community-Senior Center
More than 80 attendees connected with leaders from around the region and
heard from special guest, Middlesex Sheriff Peter Koutoujian, who spoke about
his role and his leadership philosophy. "The harder I work, the luckier I get," he
said. "Learn from your own mistakes and the mistakes of others," he told the audience.
ALUMNI  MEET-UP   March 2013  
Danforth Museum
A great event at a unique venue! Many alumni from 2007 – 2012 enjoyed the Danforth Museum while reconnecting with class colleagues and making valuable new connections with other leaders.
 Some members of the class of 2011 reunite at the 2013 Meet-up
 LEADERSHIP ROUNDTABLE SERIES   May 2012
"Intentional Leadership"
Framingham State University
Panelists:
Joel Barrera, Deputy Director, Metropolitan Area Planning Council (MAPC)
Jarrett Barrios, CEO, American Red Cross of Eastern MA
Dana M. Neshe, EVP & Chief Community Banking Officer, Middlesex Savings Bank
David Shapiro, CEO, MENTOR:The National Mentoring Partnership
Moderator:Kip Hollister, CEO & Founder, Hollister