LMW elected two new members to the Board of Directors at the 2015 Annual Meeting in June.  We proudly welcomed Diane Brooks Ring ('07), the Co-founder of ReNew Arts & Industry in Natick and Scott Umbul ('15) Branch Executive Director (Hopkinton) for the MW YMCA and Dawn Ross ('11) Director of Career Services & Employer Relations at Framingham State University.  Elected as Board officers for a one year term were Chairman: Bob Berman ('07), Vice Chairman: Tobi Russell ('98), Treasurer: Karin Semizoglou ('09), Clerk: Susan Nicholl ('05).
Retiring from the Board were Heather Jack ('07); David Baldwin "('11) and Marc Terry ('04).
Jen Maseda ('15), United Way of Tri-County, received the Emerging Leader of the Year award from the MW Chamber of Commerce.It was an LMW "clean sweep" of nominees for the award — and all three are from the class of 2015. Erin Harper, Boys & Girls Clubs of MW, and Bryan Brown, Guaranteed Rate Mortgage, were the other two outstanding nominees.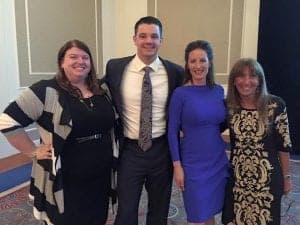 l to r : Erin Harper, Bryan Brown, Jen Maseda, Helen Lemoine
Leadership MetroWest received the "Nonprofit Partner of the Year" award from the MetroWest Chamber of Commerce. The award was accepted proudly by LMW Executive Director, Helen Lemoine at the Chamber's Annual Dinner in November 2014.  The award was presented by Marc Terry, the outgoing chairman of the Chamber's Board of Directors and the current chair of the Leadership MetroWest Board!  In her thank you remarks, Helen said, "The best way I can think of to help you visualize the influence and contributions of our LMW alumni on our region is to ask the alumni in the room this evening to please stand."  It was a powerful recognition of the array of business, nonprofit and municipal leaders who are moving MetroWest forward.
Board members from left to right: Kathy Quinton, Marc Terry, Susan Nicholl, Bob Berman and Denise Moorehead, joined Executive Director, Helen Lemoine at the Chamber of Commerce Annual Dinner.
Leadership MetroWest Executive Director, Helen Lemoine, received the Community Partnership award from Employment Options at the organization's annual dinner in Marlborough. The award was presented for exemplary leadership in facilitating partnerships to build a cohesive community that serves as a model for collaboration; and for helping to further the Employment Options mission.