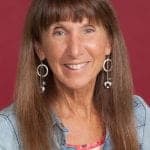 Helen Lemoine has served as the Executive Director of Leadership MetroWest since 2000. Helen is a 1993 alumna of LMW's highly acclaimed flagship program, "The Leadership Academy," to which she credits her involvement in community and civic affairs.
Helen has served the community in many volunteer capacities over the years, in the past including the boards of the MW YMCA, Amazing Things Arts Center, the MW YMCA, the Framingham History Center, and the Chamber of Commerce. Currently she serves on the Board of Directors of the Framingham Centre Common Cultural District, as a corporator of the Middlesex Savings Bank, the Board of Advisors of the MW Economic Research Center (MERC) and the MetroWest Adult ESL Fundraising Committee. From 2006-2017 she served as an appointed member of Framingham's Historic District Commission and Helen was elected to three terms on the Framingham Planning Board from 1995-2004.
Several years ago, Helen was profiled in MassINC's CommonWealth Magazine as one of eight prominent "civic connectors" in Massachusetts — people with ties to many sectors and networks in the community — who promote civic culture and collaboration. She is a recipient of the "Athena Award," a national award, given regionally through the MetroWest Chamber of Commerce, honoring women leaders who achieve excellence in their profession, inspire women to achieve their full potential, and give back to the community in a meaningful way. She was the recipient of Framingham State University's first annual "Women Making History Now" award in 2016.
Helen is a 1974 alumna, summa cum laude, of the Boston University School of Communication. She has lived in Framingham with her husband for 40+ years and has two adult children and two grandchildren.